Great Plains Underground Construction (GPUC) specializes in the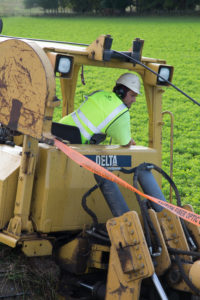 construction of rural and urban power and telecommunications projects, providing full-spectrum service from installation to maintenance. The company offers competitive pricing and exceptional customer service from a Nebraska-owned, Nebraska-based contractor with over 15 years of experience.
Since laying our first telecommunications and power cables in 2001, we have successfully completed hundreds of projects throughout the Midwest for both public and private clients. Great Plains Underground Construction's size, versatility, and wide range of capabilities enables us to work as either the general contractor or subcontractor.
Highly experienced workforce
Modern equipment
Rapid emergency response
Multiple plow trains and horizontal directional drilling rigs
Results that exceed customer expectations
Great Plains Underground Construction is located in the rural community of Creighton, Nebraska. The company was established in 2001 by our parent company, Great Plains Communications, the largest privately owned telecommunications provider in Nebraska, serving over 92 communities throughout the state for over a century with residential, business, and wholesale services